Khoreshet-e-Karafs (Celery Stew) is one of the first recipe's I learned to make. I had just moved to San Diego and I was living with my uncle Tony, an avid cook and entertainer. He showed me how to make this dish (and some others along the way).
I use the term "showed me" loosely here…. What I really mean is he would call me from work and walk me through each step of this recipe in real time: "Chop the onion and start sauteing, I will call you back in 15 minutes and walk you through the rest." Experiential learning is still my favorite way to learn! 🙂
My favorite part of cooking this dish is chopping the greens. I like to take my time with this and really get into it. It can almost feel meditative. Admittedly this is also the part that I most often skip, if I'm in a rush and need to get this meal ready fast. You can buy the chopped and fried parsley and mint mix at Balboa International Market or at North Park Produce. If you go that route, you will miss out on the fun of chopping and the benefits of fresh herbs, so I don't recommend it, unless you absolutely have to.
I like this dish because of it's versatility. My family members like this stew with chicken breast meat but the way I originally learned it was with chicken thighs and you can also make it with beef stew meat or with Tofu if you're a vegetarian.
I usually serve this stew over white, Basmati rice with a side of yogurt and cucumber dip (recipe for both coming soon).
It's a favorite in our household. Khorsht- e-Karafs is the first Persian meal I ever made for my husband. He has been a big fan ever since! The chopped herbs smell up the whole house and remind me of spring. The mint taste and smell is especially refreshing in the warmer summer months. This stew makes the best left-overs and it freezes well, so I usually make a big batch.
I really hope you enjoy this recipe. Feel free to ask me any questions that may come up as you try to cook this dish.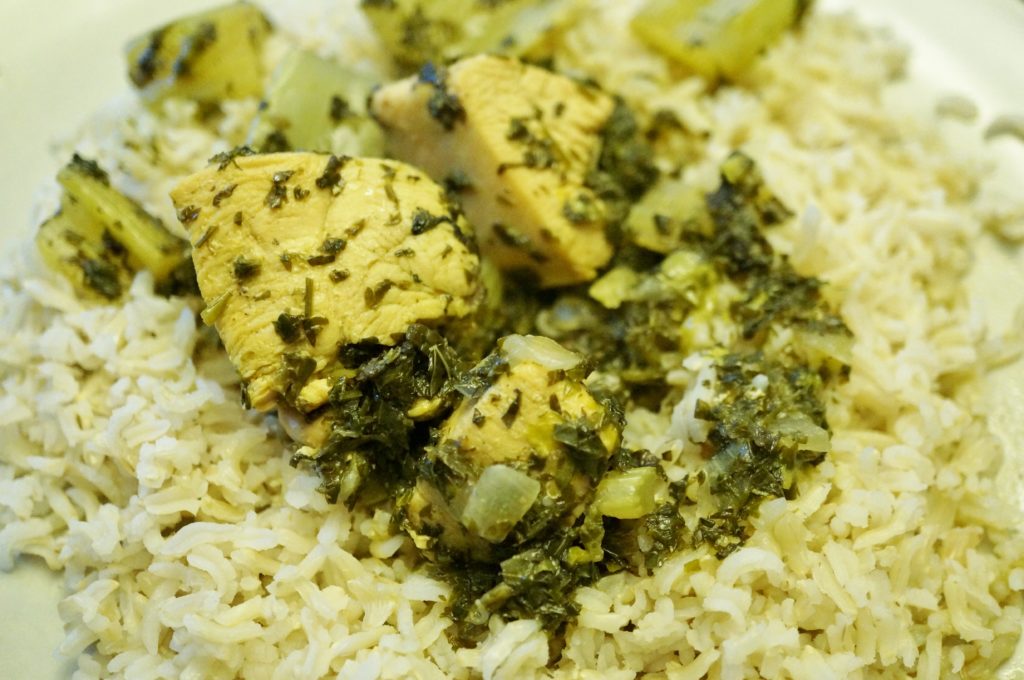 Get cookin' and post pictures! 🙂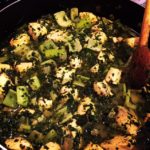 Print
Savory Celery And Chicken Stew
Khoresht-e-Karafs (Celery and Chicken Stew), a savory household favorite.
Ingredients
4 Breasts of chicken , washed and cut into cubes
1 Medium yellow onion, peeled and chopped
1 head of celery, washed, cut into 1-inch pieces
2 bunches of fresh parsley, finely chopped
2 bunches of fresh mint, finely chopped
1 1/2 to 2 cups of chicken broth
Juice of one lemon
1/2 teaspoon Turmeric
Salt and Pepper to taste
Olive oil
Method
In a large pot saute chopped onions in olive oil over low to medium heat until they're golden yellow.
Add chicken, turmeric, salt and pepper, stir and cook until chicken is no longer pink om the outside.
Add Chicken broth and lemon juice. Bring to a boil, then reduce to low to medium heat and simmer.
In a large frying pan, heat olive oil (2-3 spoons) over medium heat, add celery and saute until celery is soft.
Add chopped greens and continue sauteing for another 5 minutes.
Add the sauteed vegetables to the chicken, adjust seasoning, cover and continue cooking over low to medium heat, until chicken is thoroughly cooked.
Serve over white or brown rice.